Registration is now closed.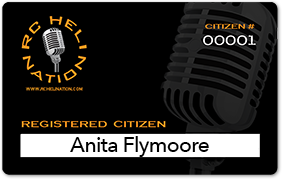 Become a Registered Citizen today!
So you're a die-hard listener and never miss an episode, right? RCHN is about the only thing come Monday morning that puts a smile on your face. You support RCHN and love to spread the word every chance you get. So now what? Become a Registered Citizen, of course! We've come up with a great way to not only support the biggest and best RC heli podcast on the planet, but for us to be able to give back to all of you that have supported us along the way…
Becoming a Registered Citizen will separate you from the casual listener and allow you to be included in some fantastic deals. Giveaways, discounts, and surprises…OH MY!!! For a one-time fee of $10, you'll get a life-long membership number that will forever and always be yours…and a lower number is always cooler, right? So, get going! You'll be automatically included in some huge drawings and giveaways we've got coming for parts, apparel, hell… even heli kits! We've got all sorts of ideas and plans for our Registered Citizens, so hurry up and register today!
For a one-time fee of $10, you'll get a whole world of perks including:
You're own personalized membership card with a unique Citizen number.
20% off all RCHN apparel when you show your membership card at a fun fly.
Automatic entry into huge giveaways that are ONLY for Registered Citizens.
Entry into random giveaways for having your Citizen number on your canopy in pictures.
Entry into random giveaways for having your Citizen number in forum signatures on OTHER forums.
Even more to come! Make sure that you visit our website, forums, and Facebook page often and listen in on future episodes for new and exciting perks that we'll be bringing your way! We're just getting started…