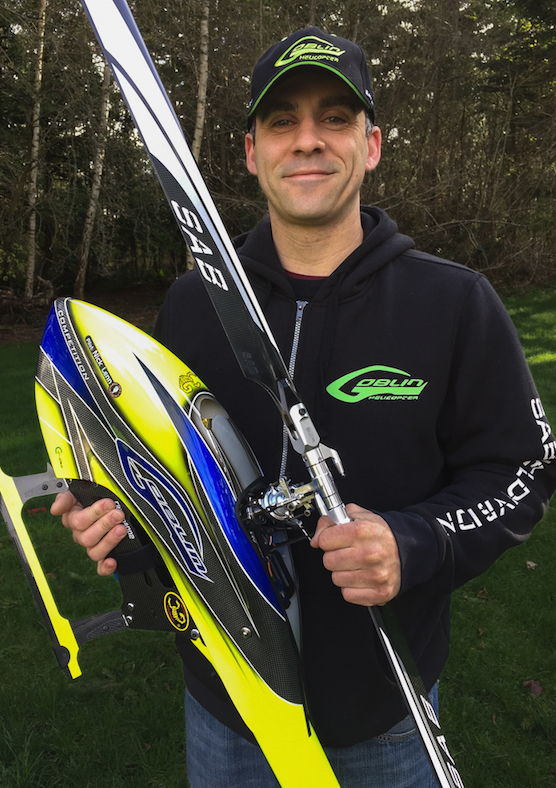 HOST
Name: Nick Lenn
Hometown: Bellingham, WA
Home Field: Lynden Flying Club
Years in the Hobby: 8
Sponsors: Team SAB, Team Optipower, V-Team, Team HobbyWing
Fleet and Equipment: The foundation of my fleet is two Goblin 700 Competitions.  These are backed up with my Goblin 570, Goblin 500 Sport Speed, and my Goblin 380. All of these keep my flying on a normal basis as the models are very reliable and low maintenance. I'm currently flying all my models on BK servos, VBar's, HobbyWing ESC's, and powering them with OptiPower batteries.
About Nick: I've been flying for a little over eight years now and am still loving every minute of this hobby. I reside in the beautiful Northwest in Bellingham, WA with my lovely wife Kim and son, Auden. Living up here, you learn to fly during all seasons if you want to fly at all, so sometimes that means in the clouds, drizzle, and cold winters.
I've always been a bit of a wrench coming from a background in both automotive and electrical. Helis were a perfect fit for me and since the first time I watched a friend hover his Raptor 50, I knew I was hooked. I've pushed myself pretty hard over the last couple years and, while I've been very happy with the progression of my flying, I have to admit that the technical side of the hobby is where I was meant to be.
I enjoy testing new products and doing reviews as well as writing how-to's and teaching others. I've owned well over two dozen helis in the last 8 years and have flown and tuned almost every major FBL system. Knowledge is something I constantly push to obtain and I really feel like I just can't soak up enough information about this hobby.
I truly enjoy helping others and am always wiling to give a helping hand. Feel free to contact me at , catch me on my FaceBook page here Nick Lenn – RCHN, or if you have any questions or look for me at "nwmtech" on the HeliFreak forum here HeliFreak – RCHN Forum.  Hope to see you all out on the flying field!