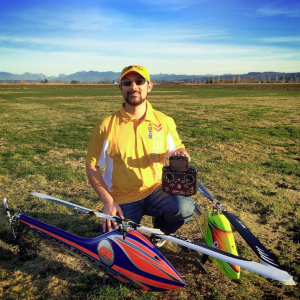 HOST
Name: Justin Pucci
Home Town: Bothell, WA
Home Field: Cascade Model Heli Club
Years in the Hobby: 5
Sponsors: Bavarian Demon FBL, MKS Servos, Jeti, Xnova Motors
Fleet and Equipment: Goblin Speed, Diabolo Speed #40, TDR, Goblin 770, Goblin 380, Jeti DS-14, MKS servos, Bavarian Demon X-Series FBL Systems, Kontronik ESC's, Xnova motors, and OptiPower batteries.
About Justin: What's up, guys?! My name is Justin Pucci and I live in the Seattle WA area with my beautiful wife and newborn son. I've been flying helis since Thanksgiving 2009 and I'm currently sponsored by Bavarian Demon FBL and MKS Servos.
My first heli was a T-Rex 500 ESP, but as most of you have experienced, the fleet quickly blossomed into a plethora of different helis as the addiction set in. I've owned and flown all of the Align helis from the 250 up to the 700's, the Mikado Logo 500, 6003D, and 600SE, the Synergy N5 and E7, the Shape 9.0, and many more… After all this time flying different helis, I've finally decided that, while I love 3D, speed is my "thang!" If it goes fast, then I'm all about it in this hobby!
After many years in school, I graduated from Massachusetts Institute of Technology in aerospace engineering with an emphasis in plasma physics and space propulsion and I am now fortunate enough to work in the space industry as a real-life rocket scientist where I design, build, and fly rocket propulsion systems on a variety of different spacecraft! This, of course, is why when I decided to get into radio control stuff, I chose helicopters so that I could get my nerd on with all the cool technologies that are used. In addition to flying, I thoroughly enjoy testing different products and configurations, designing, building, teaching, and helping others in the hobby.
Recently, Nick and I started a new company called Novel Innovations, LLC as a way to do more design, analysis, and consulting in the hobby. Our first project was designing the new Miniature Aircraft Whiplash 700EX, which has been very successful since release and now has a RealFlight model and a front-cover review in RC Heli Pilot magazine. We're hoping to continue to work behind the scenes in the hobby until we're ready to strike with our own stuff! 😉
If you'd like to get in touch with me to ask any questions, provide suggestions, or just chat a bit, you can email me at  or you can catch me on all the forums as "Justin Pucci." See you around!