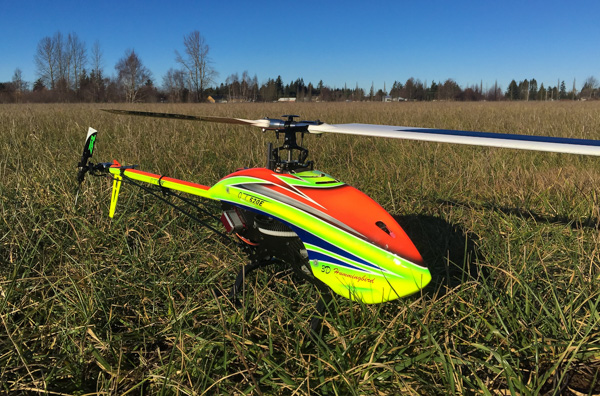 DarTin DT520E V2 Review
Written by: Nick Lenn
The quality of RC helicopters has increased dramatically over the last 5 years, and becuase of this there are some really great flying helis that can be had for very reasonable prices.  The Dar Tin 520E V2 is one of those models and I'm glad that we got a chance to review it.  Thank you very much to Shannon from Only Fine Helis for sending this model out for us to review.
Let's talk about the specs of the DT520E V2 before we get started with the review just so we're all on the same page. We received the DT520E V2 kit with blades that was also upgraded to the "Volante" edition which from here on out I'll refer to as the DT520.  There is a TT version of this model as well, but we reviewed the belted version. The Volante upgrade has the amazingly bright canopy, painted boom, and tailfin as well.  The base DT520E V2 airframe is $399 with the addition of blades and the Volante upgrade bringing the total to $459
Specifications:
Length : 1045mm
Height : 305mm
Main Rotor Length : 520mm
Tail Rotor Length:  85mm
Main Rotor Diameter: 1160mm
Tail Rotor Diameter : 249mm
Motor Drive Gear:  12T(1T)
Main Drive Gear : 104T(1T)
Autorotation Tail Drive Gear:121T
Tail Drive Gear: 30T
Drive Gear Ratio : 1:4:8.66 (12T)
Weight (without battery): 1900g

Assembly:
The model takes full size servos so I installed a set of BK7002HV cyclic servos and a BK7006HV tail servo.  Now being that this was a dual review I also had the 3Digi FBL system on there.  For the power system I chose a HobbyWing 100LV V3 Platinum speed controller and tried a couple different motors ranging from a 4025-1100, a 4020-1100, and even put an old Viper motor in there just to get a sense for how an ultimate budget build would fly. I tried a variety of batteries ranging from Optipower 6s 5000's all the way down to Pulse 6s 4100's. All of this was flown with a Futaba 6203 receiver and a Futaba 14SG. For blades they sent a set of the DT 520mm blades and Zeal 95mm tails.
Straight out of the box there's a single theme that can be found with the DT520 and that is "Keep it Simple". It's very apparent that any the company put effort into getting the model into your hands for a very reasonable price. The packaging is simple, yet effective. No fancy wrapping or anything like that, but by all means packaged well enough to make sure it safely makes it to your doorstep. One thing that was a bit of a shocker was that it was a lot more put together than I had expected.  The heli was pre-assembled into little subgroups. The tail, head, main frame, etc. were already built so that was really cool.  I did go through and double check with the manual that everything was assembled properly and loctited and couldn't find a single thing that wasn't built to my satisfaction.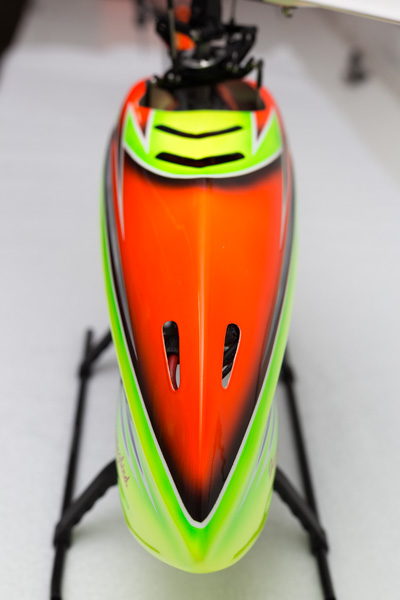 Without question, hands down, the canopy is amazing!  The design is visually stunning and flows incredible with the model.  It's not too thick and bulky and really makes this heli stand out in the crowd.
The frame is a very narrow and rigid design with a wider section in the front for the battery tray. The battery tray has a simple, yet effective, release on the side that makes loading batteries a breeze. I had no problem setting the CG on any of the batteries I tried. The tail drive system is a traditional simple system with an autorotation gear driving a tail drive pulley.  One thing that definitely stood out was the herringbone main gear.  This design has long been a favorite of mine and yields a very strong main gear that also runs extremely quiet. Servos are mounted in a vertical direct-to-swash configuration and did not appear to have any restrictions on brand or servo design that would fit in heli. The motor has a very nice mounting plate design that slides on the main aluminum assembly in the middle of the frame.  This makes setting the gear mesh very easy. I should also note that I did not need to trim the motor shaft due to this design and I doubt you would need to on most motors. There is a nice dedicated ESC mount on the front of the frame that fit the HobbyWing 100LV perfect and netted some nice and tidy battery wiring.  Only issue here is it's a bit of a jaunt from the ESC to the FBL system in the back with no real clear path of wiring so plan on using some servo extensions. On the rear of the frame is a small, but ample, FBL mounting spot and despite the extremely narrow frames I had no issues hiding wiring.  There is plenty of space on the side of the frame to mount the receiver, or if you want to be a little more custom you can actually mount it or a BEC inside the frame in the back on the bottom. The frames and aluminum is of good quality but be prepared for quite a bit of sanding.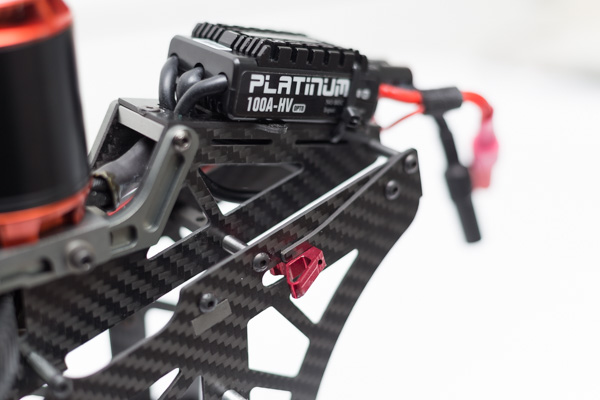 The tail assembly is traditional and simple with a very robust and proven over/under style plastic tail control slider. My model had absolutely no slop in the tail and I was extremely impressed with the plastic quality on the tail grips as well. The tail control rod has an adjustable angle support which is really nice and allows you to get your tail control rod perfectly straight. The tail control rod came premade with some very nice aluminum ends on it.  Overall the tail system is simple, yet very precise, and with the exception of the tail ratio (which I'll get to later) I saw no immediate need for improvement.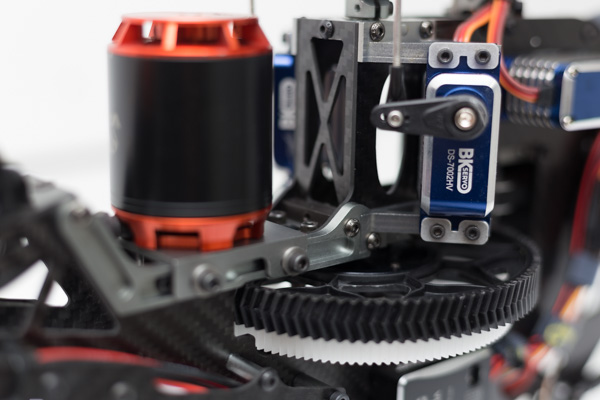 Once again, the head is a very simple system with a typical 120* swash and anti-rotation pin setup. While I wouldn't call the head overly robust I think it's minimalist design functions just fine and isn't any bigger than it needs to be.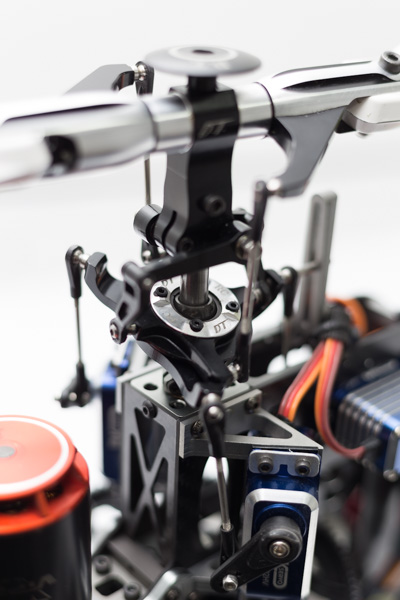 The factory landing skids are black and I feel the tubes are a bit too long.  I would say out of everything on the heli they're my least favorite.  They're not "bad" by any means I just think the heli has such a clean and sleek design they just don't quite fit the look.  Having said that, they provide a nice wide stance for flying off of any surface and I think newer pilots would definitely appreciate the stability. There are also a set of optional carbon fiber landing skids that Shanon sent out for me to try.  These are much more sleek and look great but narrow considerably towards the rear.  I'd be cautious about my landing surface with these, but it's hard not to deny how great they look.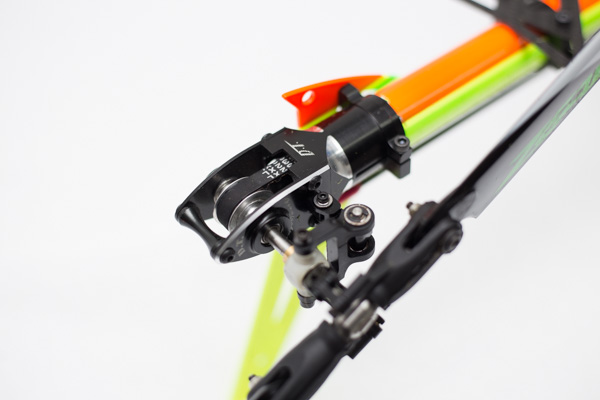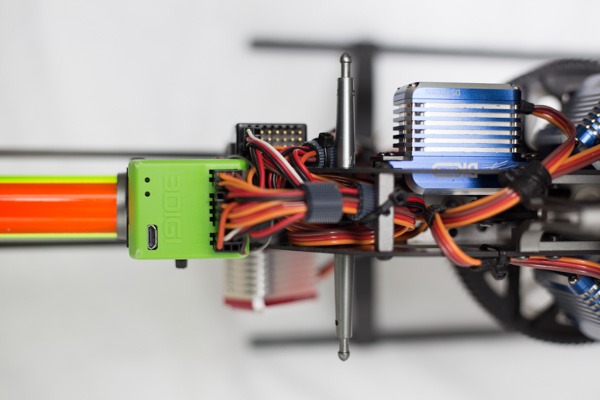 Flight Performance:
How can a heli so simple fly so good?  This one was a big shocker to me.  I can be honest and say that I was expecting just a mediocre flying experience between the simple design of the heli and the DT branded blades.  Boy was I wrong!  The model tuned very easily and by the second flight I was tossing it around no different than any of my other models.  The cyclic is crisp and very connected, and while I tried a bunch of different battery sizes, I really liked the way the 4100mah pack flew. The only negative symptom I came across was there was a very narrow RPM range that I would get a bit of a cyclic shudder in.  This was only about 100rpm wide and would change depending on weight and blade size. It was easily tuned around, but I want to make note of it. There might be slightly looser or tighter damper shimming that could tune this out, but I did not try it.  With the 520mm main blades the model felt very light in the air and tracked surprisingly well. Tail performance was great with the 95mm blades, but I'd like to see the tail ratio a bit higher to allow running smaller tail blades more appropriately sized to the model.  I do think sport pilots and even light 3D would work perfectly fine with smaller blades. Flight times varied from a rocket ride 3:30 seconds to 6 min of cruising around with nice sport flight.  The Volante edition color scheme is extremely visible in the air and I found no visual orientation issues.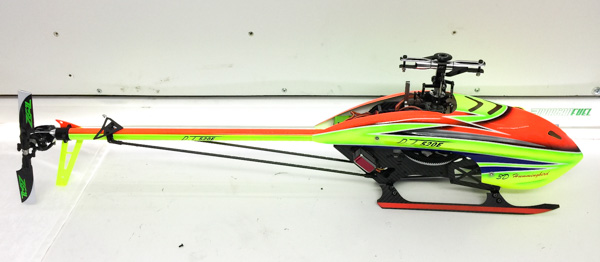 Conclusion:
If you're looking for a great flying heli that doesn't break the budget then I would highly consider the DT520.  It's not the fanciest, and doesn't have any trend setting features, but that's what I think makes this heli so good.  It's a very economical heli that flies far better than it's price tag. It's simple, easy to fix, and can take a very wide range of components. I put 50 flights on this model and had zero mechanical issues and don't see any signs of foreseeable wear. The parts prices are amazing and if your #1 goal is the most stick time for the dollar then I really think you can achieve that with the DT520.  Is it perfect? No. I would like to see them implement a tail gear ratio change and maybe offer some other damping options. This would give a little more tail clearance in the back and hopefully take out that narrow RPM range where the cyclic isn't happy.
DarTin has been around for quite awhile and with the great customer service that Only Fine Helis provides I think you'd be very happy with this model. Thanks again to Shanon for sending this out for us to review and feel free to click the banner below if you want to check it out on their website.  See you guys at the field!