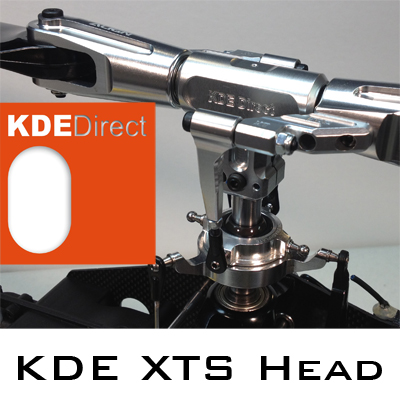 I was fortunate enough to have KDE send me their new XT Main Rotor Head System (XTS for short) to put through the paces.  I opted to install this on my tried and true Trex 700n due to the fact that I have a large amount of flights on it in it's current configuration and figured that would be the most accurate way to notice a difference in flight since I'm so comfortable with it.
The packaging is simple and effective in true KDE form with a very well laid out instruction sheet. Right away it was very apparent that the quality is nothing but top notch.  Everything was beautifully machined you can tell that a lot of attention was put into detail.  Since this was replacing a V1 Align 700n head, in addition to the KDE kit I had to purchase an Align DFC mainshaft, DFC dampers, and V2 blade grips.  For existing DFC owners no additional parts are needed as long as you have the newer plastic dampers and not the 90 durometer ones that came in the first DFC kits.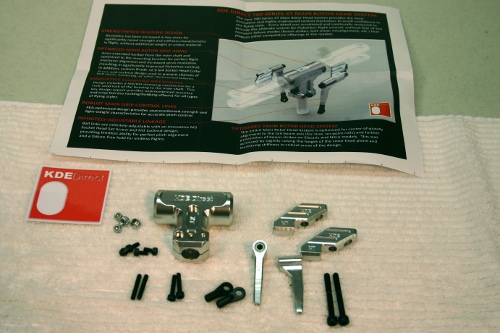 Alright, on to the install!  Once I got all the old stuff pulled and DFC main shaft installed I went ahead and installed the XTS headblock.  It was very apparent at this point the strength in this headblock.  Not only does it have the traditional jesus bolt with two smaller bolts above (not installed at the time of the picture) it but KDE has also implemented two pinch bolts below the jesus bolt.  I really like this feature and feel it will give the most secure mounting method possible.
Once the headblock was installed I went ahead and installed the spindle, grips, and grip arms.  Moving on to the links probably the most important thing with this kit is revealed.  M4 bolts were implemented instead of the M3 used by Align.  They're also captured on the end with an M4 nylon locknut.  Genius! After installing the links the techie in me came out and I immediately had to check the phasing.  This is where you'll see a lot of error from other manufacturers and head designs.  Lo and behold it was absolutely perfect! The picture shows exactly 0* of phasing.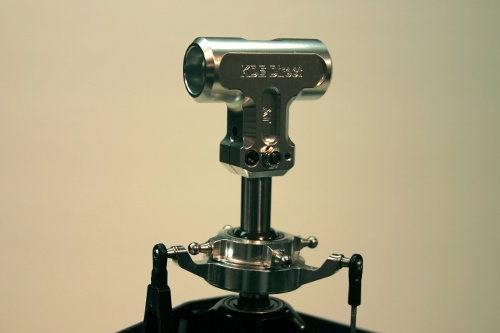 From there I installed the plastic ball links.  I should also note I really like the feature of them being being locked in with a nylon lock nut.  I feel this not only adds extra rigidity but it's a great precautionary feature as well.  The plastic links themselves are also significantly beefier and more robust as the factory Align ones.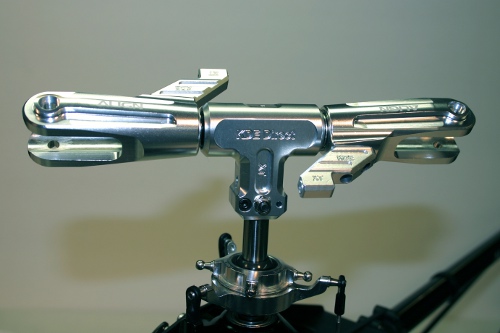 I had zero problems setting up 0* of pitch at mid-stick and in re-programming the BeastX to see it's 6* of cyclic pitch I actually found the geometry of the head to be slightly more favorable than the Align head.
My overall impressions at this point were very high.  The head feels significantly more robust and the reduced head height should really tighten up the feel of the cyclic in flight.  Also take note that KDE decided to make the overall height 5mm higher than the Align DFC head to prevent the boom strike issue that it was having.  The combination of this, the plastic dampers, and the 4mm mounting system gives me nothing but confidence in the mechanics which was what had previously prevented me from running the DFC head.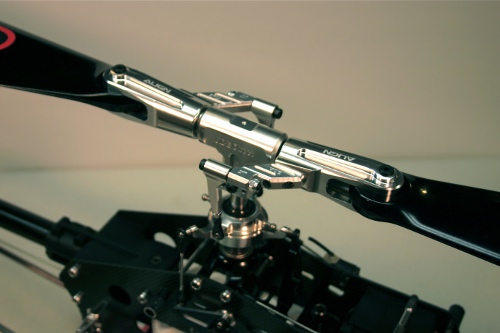 Flight Testing:
Since I had so much confidence in the mechanics I had no issue with immediately proceeding to fly this just as I had any of the previous flights.  Right off the bat there was a VERY prominent increase in cyclic response.  The XTS head gives a very connected and direct feeling to not only the cyclic but the collective as well.  I did have to land and slightly reduce my main rotor gain on the first flight because the head was so locked in now the previously higher gain that had been used was showing signs of slight bobbles on harder stops and it flew too rigid for my taste.  Once I dropped the main rotor gain it was go time!
I put 11 flights on the XTS head in the first day alone and can honestly say it has breathed new life into my Trex 700n.  The cyclic and collective crispness are unreal.  I was really shocked to not see any wobbling during autos or at lower headspeeds even with the plastic dampers.  There's no question that this is the upgrade to this helicopter that has made the single biggest difference of all with very obvious and noticeable differences.  The cyclic feels much more directly connected to my fingers and the added strength and rigidity in the head is definitely noticed in flight.
With over 30 flights on the head at the time of writing this review I've been nothing but pleased and impressed with KDE's XT Main Head Rotor System.  People who know me can attest that I can usually pick some sort of small design flaw that I don't care for in just about any product but I'm going to have to eat a big piece of humble pie on this one and say that KDE has nailed it right on the head this time.
Even after getting a little bit carried away with an acrobatic auto which resulted in a tipover/boom strike the head showed no signs of bending or damage.  There was enough force to turn my boom clamp from an O shape to a C shape, destroy a boom, blades, two servo horns, and main bearings but not a single thing was bent on the head. It's nice to know that not only will this head yield a big increase in performance but with no sacrifice in strength or durability.
Quality, performance, robustness, and the bling factor that KDE has been known for is all there with the XTS head.  Nice job KDE!!