Storage and Transport Skid Clamps
Written by Dan Reed
Every now and again you happen across a product that is so amazingly simple and effective that you find yourself wondering "how is it I have never thought of this?" Opinions may differ on what FBL controller is the best or what servo is best, but there's a universal concern that most any of us in the hobby can relate to… How do we secure our precious helis at home for static display or during transport on our way to the field or the RCHN Fun Fly!?!
RandomHeli.com has a new product available that fits the bill when it comes to all your transportation and storage needs, so let's dive right in and see what these skid clamps are all about!
Ray L., the owner of Random Heli, has put together a fantastic resource for these clamps, so I will be using some images directly from the Random Heli web site with links.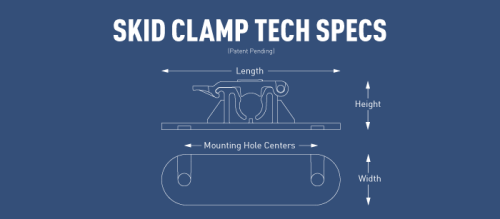 Nominal Skid Diameter Range

5.5 mm – 6.5 mm

8.0 mm

9.0 mm

Length

1.97″ [50.0 mm]

2.48″ [63.0 mm]

2.48″ [63.0 mm]

Width

0.59″ [15.0 mm]

0.71″ [18.0 mm]

0.71″ [18.0 mm]

Height

0.59″ [15.0 mm]

0.70″ [17.0 mm]

0.70″ [17.0 mm]

Recommended Mounting Screw

#6 [3.5 mm]

#8 [4.0 mm]

#8 [4.0 mm]

Mounting Hole Centers

1.38″ [35.0 mm]

1.85″ [47.0 mm]

1.85″ [47.0 mm]

Holding Strength, each Lbs (kg)

>25 lbs [11 kg]

>35 lbs [16 kg]

>35 lbs [16 kg]

Durability (cycles)

>10,000

>10,000

>10,000

Maximum G

>10

>14

>14

Operating Temperature °F [°C]

15 to 130 [-10 to 55]

15 to 130 [-10 to 55]

15 to 130 [-10 to 55]

† Skid Clamp Bases can accommodate up to 1mm additional diameter by removing center rib. (User Mod)
These skid clamps are available in three different sizes as noted by the chart above. Also there are three colors available in each size: orange, black and yellow.
The first question you might be asking yourself is how does one determine which size skid clamp is needed? Random Heli has a comprehensive sizing chart available that is updated regularly and can be found here. For this review, I was able to use the clamps on a Trex 700N, JR Vibe 50, Raptor 30, and a Trex 450 SA ARF (one of the original 450's from Align). With those sizes, I found that  9.0, 8.0 and 5.5-6.5 mm skid clamps will fit 700-, 600-, and 500-sized helis, respectively.
The 450 I have was able to use the smaller clamps, but the skids did not fit in the clamps snugly as the others did…all the same, the clamps held the 450 for transport without issue. It's also worth a mention that more modern 450's might have a skid pipe with a larger diameter than the antique 450 SA ARF that I have – 4-piece aluminum frames. Just sayin'! These fit tight and you could damage the clamp if you attempt to put an 8.0mm clamp on a 9.0mm skid pipe…ask me how I know that!
Durability is also important…none of us like to purchase a product only to find it really does not do what its is advertised to do, right? Or worse yet, it does, but seems to break after only a few uses.  Ray has done some testing for us to see just how durable these skid clamps are. Ray told me that these clamps can withstand 25 pounds or force at the skid pipe without separating from the skid clamps and they can handle 10G's of impact shock. Those are impressive numbers, but the number that really impressed me was TEN-THOUSAND open and close cycles!!!
Think about that…if you fly everyday, that means you're using the clamps once a day and in the big picture, that means these skid clamps will last you for almost 27 years!!! If you're like me, you're wondering what does that mean? Again, I will refer you to a video the guys at Random Heli did… This link will show you the extensive testing that was done on the skid clamps. But this link is the one that demonstrates the effectiveness of these skid clamps in practice. What I really like about these clamps is they can be repaired. That's right! If you need to replace just half of the skid clamp, you can and you don't need to replace it with a completely new one.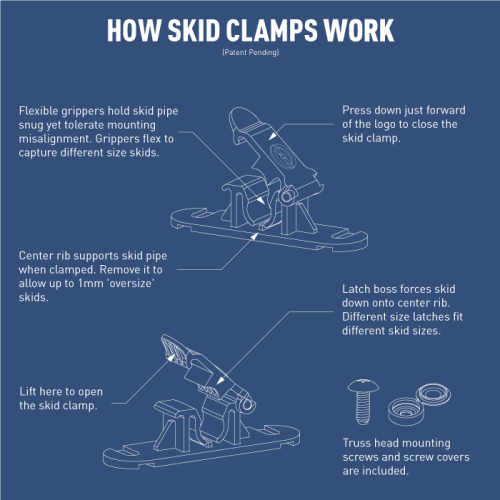 Installing and using these skid clamps is pretty straight forward and again the guys at Random Heli have taken steps to make the process even easier with an installation video. The main consideration is orientating the clamps in such a manner that it allows the clamp to open without interference with the skid strut. Also, you should put some thought into the physical location of your mounting. Make sure you put your heli in a location that allows for easy access to the clamps. It's mentioned in the installation video and I also found that the best orientation is with the clamps facing out so they open toward the center of your heli.
The image above really does a fantastic job of explaining how to operate the skid clamp. It's important to take note of the mechanical nature of the clamp. I was mistaken with the first clamp I attempted to use and I pushed down directly on the end. This will cause a stress fracture in the clamp. You will notice there is a logo on the top of the skid clamp. This is the ideal location for applying pressure to close the clamp. Then, gently pulling up on the end with your pointer finger while applying pressure to the logo with your thumb will allow the skid clamp to open. Should you have an issue with your skid clamp, send Ray an email! He has great customer support and he will take care of you.
If you choose to, you can install the screw covers. These add a nice clean look to your new mounting system and it's a nice touch if you're displaying your helis proudly in your workshop or maybe your significant other has allowed you add some heli art to your living room!
When we review a product, we search for the positives and the negatives. From a functionality standpoint, I find nothing bad to report. These clamps look great and they're strong. They are not a clip…they are a clamp and they will hold your heli in any position you choose. In talking about these clamps with others, I have found the number one concern is the cost at $11 – $13 for two clamps… Of course, that comes to $22 – $26 per heli if you use four clamps. I understand that it all adds up.
To this I say that $26 bucks for piece of mind that my heli is riding safely while I am bouncing my heli trailer down the highway is completely worth it. Anytime I build a new heli, skid clamps from Random Heli will be  on the list of "must get" items just like servos and a receiver are.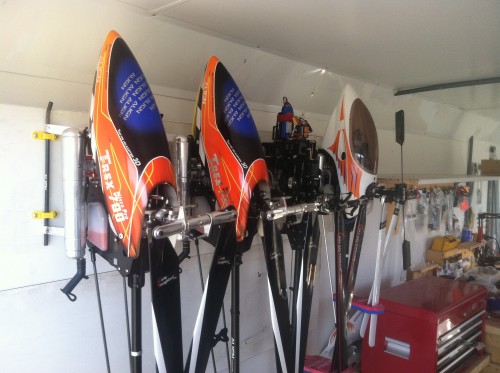 I initially had my helis mounted on a shelf, but this is how I ended up after getting these clamps. I have been using them for about a month now and as most of our listeners know, I fly almost everyday. These clamps have simplified my mounting system and made me much more comfortable with transporting the fleet.  Below are some before and after photos:
If you're looking for a solution to securing your pride and joy, you needn't look further. These skid clamps are all they are advertised to be and they wont disappoint! I would like to Thank Ray L. at RandomHeli.com for allowing us to review these fantastic skid clamps!
– Dan