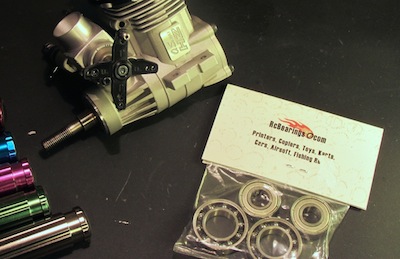 RC Bearings: Nitro Engine Bearing Sets
Written by Nick Lenn
There's something to be said about a quality set of bearings.  RC Bearings was kind enough to send us a set of their engine bearing sets to put in a used OS55 engine that a good friend of mine bought.  But wait, bearings are bearings right?  Not exactly, so lets see what RC Bearings has to offer.
What we received was an engine bearing set for an OS 55 engine.  This particular set included a shielded chrome front bearing and a chrome steel rear bearing.  These are direct replacements for the factory OS 55 bearings.  Initial inspection found the bearings to be extremely smooth and of very high quality. An obvious upgrade from the factory bearings.
A good friend of mine, Mike, had recently purchased an OS55 engine used and while it was said to have the typical "couple of gallons" we took this opportunity to put a fresh set of bearings for piece of mine.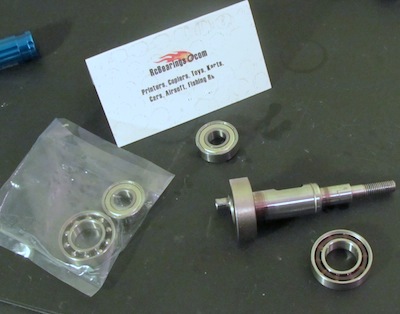 Install went very smooth as we went through the process of stripping the engine block completely down and heating up the engine case for removal of the old bearings.  If you're unfamiliar with this process you can find a step-by-step process in our Tech Tips section here Nitro Engine Bearing Replacement
After about 30min with the crankshaft and the new bearings in the freezer we went ahead and installed those in the engine case. This method really does make the install a breeze as they literally drop right in.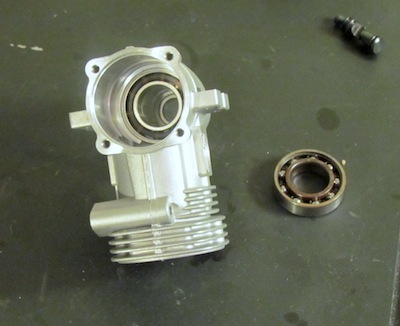 After the new bearings were installed we slapped the motor back together with new ring and piston and he was ready to go.
So I guess probably the biggest question is why bother going to www.rcbearings.com to order these bearings and not just order a set of factory Align 55H bearings or OS55HZ bearings?  Very simple… quality.  Some people are not aware but OS Engines had quite the problem with their factory rear bearings in the OS55.  They would randomly explode with as little as half a dozen flights.  Either that, or they'd wear prematurely and result in needing an overhaul far sooner than they should have.  The advantage that the RC Bearings sets give is the option to choose the quality and type of bearing you would personally like to run.  You can choose either chrome steel, stainless steel, stainless steel ceramic, and metallic retainer options.  My personal favorite is the stainless steel shielded outer bearing with the stainless steel inner bearing.  These give tremendously long life and from personal experience in the past I can attest that on numerous occasions I've been able to almost double my normal bearing interval switching to these bearings.
Now as if the quality wasn't enough of a reason to use the RC Bearing engine bearing sets in itself then the price point makes it a no brainer.  Most of these sets will not only be cheaper than the factory bearings but in some cases they'll be cheaper than a SINGLE rear factory bearing.
I've been running RC Bearings in not only my nitro engine but throughout my heli chassis as well and couldn't be any happier with them.  I will always go to www.rcbearings.com and order my bearings there by size first before I'll buy factory branded bearings.  I know I'm getting a good product at a fair price with great customer service to back it up.
Again, I'd like to thank Paul McIntosh at RC Bearings for sending us these bearings to review.  We appreciate their support and are happy to have a quality product to review. Make sure and check them out at RC Bearings.
-Nick