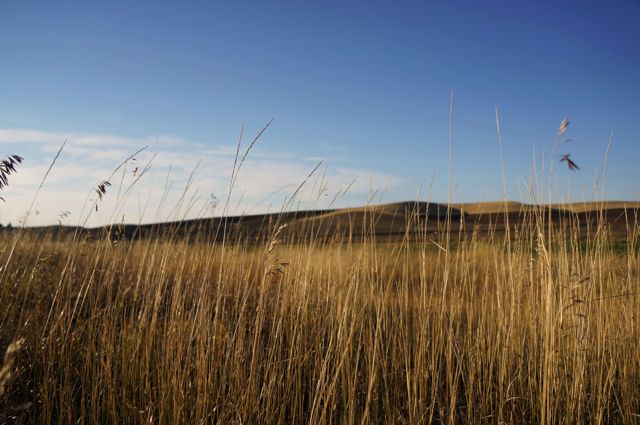 For a while there it seemed as though Pullman was about to plunge straight in to winter, as it was 37 F when I went out to the field a couple weeks ago.  Lets just say that I was not prepared for that weather at all and only lasted about 8 flights before I couldn't feel my hands anymore and went home.  But o
ver the last couple weeks here the weather has been beautiful even hitting 70F a couple days.  So as you can imagine I have been doing a fair amount of flying every chance I get.
Over the last couple weeks I have had a lot of heli related and personal things going on in my life.  As I am sure most of you noticed I was not on the show last week as I had a wedding to attend back home in Bellingham.  I have to say the wedding was fun but it did hinder the amount of flying I got in last weekend, which was none.  Luckily for me I don't have class on Tuesday and Thursday until 3PM so I have been getting in my fair share of flying.  🙂
I hate to say this but it is about that time of the year to start doing some serious maintenance on my helis.  It is nothing huge but all of the little things can really add up.  On the 7HV it is about time to go through and do my usual inspection on all the bearings and probably change out the dampers in the head.  The same goes for the Warp with the exception of the head dampers since the Warp head is rigid.  None of this stuff will take much time it is just a matter of sitting down one night and getting it all done…Ugh.  Luckily the 6HV is flying great and I haven't had to do anything to that heli yet.  I have about 60 flights on it and haven't had to change a single setting in the last 30.
There are a couple other side things I am working on that might be a little heli related.  I am really getting anxious to get a go pro and a quad setup so that I can start taking aerial photographs and video.  I recently picked up a Sony Nex-5R and have been having tons of fun taking pictures with that thing.  Next time someone comes out to the field with me I am definitely going to get a flight video, as the quality is amazing.  At the moment I am torn between getting a DJI Phantom or a Blade 350QX.  I guess I will just continue to do research until I am ready to purchase.  If anyone has any experience with both of these please shoot me an email I would love to hear your thoughts.
Well that is about all I have been up to., really quite a boring couple of weeks if you ask me.  It seems that school is going to be picking up here as I approach the end of the first semester so I foresee my flying time diminishing slightly, but not too much since flying is the only thing keeping me sane at the moment.  🙂
-Jessie