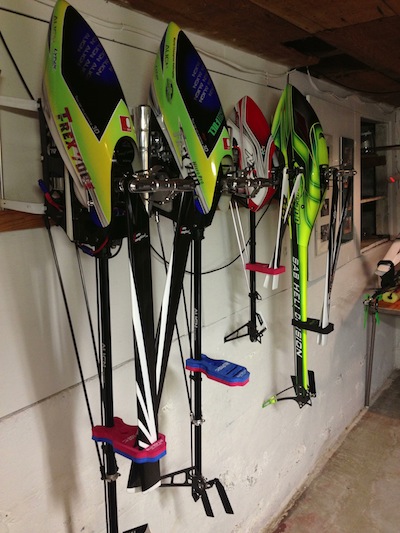 What a busy last week it's been.  Definitely rocking that overwhelmed feeling that's for sure.   The weather last weekend was awesome and Team Gaui and fellow Skookum pilot Alvin Chai came down from Canada to fly.  Also a buddy from down south, Andy, came up as well.  What a great time we had.  It's still pretty cold but we still got in some good flying.  That was the first time I got to see the NX4 fly in person.  What an awesome little heli. Gets me even more pumped to get James' NX4 all finished up and flying.  Sure is cool to see a top level pilot like Alvin fly in person.  Really puts the level that competitive guys are on in better perspective.  Insane! I look forward to flying with Alvin more this summer.  Hopefully some of that flying skill will rub off 🙂 I got a chance to fly the KDE SXT head on my 700e as well.  I don't want to give away too much before the official review but I can tell you I will be heading back in the direction of a non-DFC head style very soon on all my helis.
I went on a building and wiring marathon this weekend.  Of course all the last of the parts showed up for the Goblin and NX4 on mid-day Saturday.  That doesn't exactly leave all that much time to get things ready for Sunday but I thought I'd give it a shot.  The Goblin went well. At the last minute I decided to bite the bullet, bend over, and bought a HeliJive 120 for it.  Ridiculously expensive but with all the governor testing we've been doing on the SK lately I want to make sure we have a baseline for comparison from what's considered the "best" gov on the market.  Sometimes getting caught up in one specific brand of stuff can distort your perspectives of what is working "great" and what isn't.  I plan on using the Goblin for motor testing since swapping the motor is such a quick process and the HeliJive will provide very consistent results with little tuning. I robbed the blades off my 700n (which is waiting arrival of the new clutch) and finished it up about 10pm.
I then proceeded to start on the NX4.  It sure is a nice treat to work on someone's heli that is built to perfection.  James is a fantastic builder and his attention to detail really shows. Seems like 90% of the helis I work on of other peoples I end up finding a handful of things that need attention. He's one of the few builders that I would have hand me a heli mechanically finished and not need to check a single bolt.  Makes my life a lot easier!  So I got the HeliCommand HC3 SX installed and programmed.  This was the first time I have been through the software and setup portion of it.  Kudos to the team at HC.  The software is very self explanatory and well laid out.  Some of the naming is a little odd but that's pretty typical of European based companies and not a big deal in the end. Finished that one up just a couple minutes after 3AM and hit the sack for a little "shit eye".  All you facebook watchers saw that one, lol.
The weather was not exactly cooperating but I did get both helis out in the back yard for their maidens.  The Goblin was uneventful as expected since I put a SK540 on it.  Truthfully, I could have easily flogged it on the first flight and can't wait to get it out where I can actually fly it.  I managed to squeeze in 6 tanks total on the NX4 between rain bursts.  Once I started to get some temp in the motor and lean it out that little bastard came alive!  The default settings in the HC worked great for a maiden.  Now I might add that I don't have a lot of room in my back yard but I couldn't resist myself and threw it up for some nice tight aileron tic tics on the last flight 🙂 I really wanted to do some piroflips to check the cyclic flow of the HC but my sons swing set kept winking at me and I knew better than to get too carried away.
All in all it was a great week.  Very exhausting but none the less fun.  It's a great feeling to get both of these helis finished and can't wait to really get out and give them a whoopin!