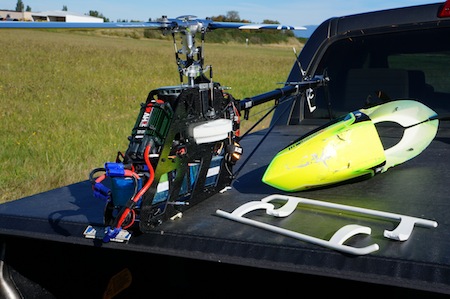 What a great day at the field I had on Sunday!  Felt so good to get out and get some real stick time in after the last couple weeks of constant rain.  Was about ready to record a flight video for the Blade 700X review but managed to canopy bump the 700X so hard I blew the skids off.  Amazing it flew away from it without any other damage.  Woot!  Very surprised at how tough this heli is.
Looks like the little bit of sim time I've been putting in has payed off.  I did 3 flights of pretty much nothing but right rudder double piro flips on the Warp.  I sure do love flying that little heli.  I do, however, think it's time to try some different blades.  The Compass blades just seem a bit soft for me.  I have to keep the headspeed up a bit higher than I think I really need to.  It'll be curious to see what other 350mm blades come out now that the 450L and the X3 are on the market.  Hopefully it increases our options available.
It's Monday now and back to the rain already which kinda sucks.  On the brighter side I'm getting ready to start on my charging case.  I've got the power supplies, case, fans, AC plug, and banana jacks all ready.  I had full intentions of just using my two iCharger306Bs and had purchased a deck-lid from ProgressiveRC to accommodate them but at the last minute decided to sell the chargers and deck-lid.  I haven't pulled the trigger yet but it's just a matter of picking between the iCharger 4010 and the 3010.  My reason for switching was not so much because of the power but because of the convenience on the presets.  I spent a good amount of time talking with my good friend James about how the software works and the ability to quickly access presets and that's a really big deal to me.  I've found that I'm quite lazy when it comes to changing charge rates on the charger and hence my wanting to add more chargers.  I think the ability to quickly switch between presets will change this and a single dual channel charger should be enough.  Not to mention this new setup will be 3″ shorter and should drop about 5lbs off my current case.