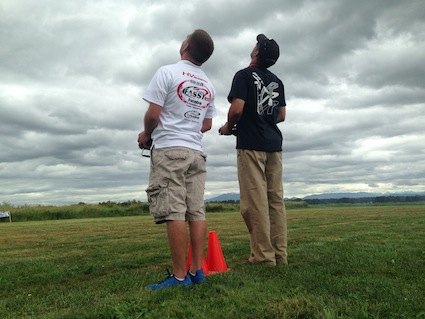 I'm almost speechless when it comes to explaining how much fun we had this weekend at Snohomish.  Despite going down there on Thursday night and not leaving until about 4pm on Sunday it felt very rushed.  Our setup was a bit different this time as we decided just to pull my trailer parallel with the flight line and all setup across the front under the awning.  It worked out really cool and I think we'll be doing that again.
Friday was cool just kicking back, flying a bit, and bullshitting with everyone. Dan rolled in late Friday night looking tired and beaten down.  That's one hell of a drive.  He's got heart, that's for sure.  I got to meet the AMain Team last year but this time took the time to get to know some of them.  No question Greggor McGrath and Leon Luke are two really cool dudes.  I've chatted quite a few times with Leon online over the last 6mo but its just so much better meeting people in person.  He's definitely a true legend of the hobby and it's mind boggling how well he can still throw down.  Greggor is a cool dude to shoot the shit with and I can see we see eye to eye in business sense so who knows what the future might bring.  Not to mention one hell of a pilot and a blast to watch fly. Devin LeBlanc… well… what else can I say other than that little fucker can throw the smack down!  He skid bumps more than any other person I know and has a very quick and precise flying style about him.  Not sure why but he's really ramped his game up since last year.  Very entertaining to watch.
Botos and Bennet were there and cool as hell to shoot the shit with as always.  It was really neat to see the new Synergy N7 in person and I really appreciate and respect the motivation Matt has for keeping nitro in the hobby.  The heli looks great and I think will be a great success.
This was the first time I got to meet Nick Maxwell.  Really cool dude to talk to.  Quiet, but he's got a very unique twisted sense of humor if you manage to pull it out of him.  It's hard to explain but meeting him was far bigger deal in the end then I think I would have ever anticipated.  I found out he only runs a CC120, 1980rpm on the head, and 18* of collective.  Are you kidding me!?!  He flew so hard and fast I was literally speechless! How could this even be?  Well, what it did was really make the technician in my brain take a step back and start putting the pieces to the puzzle together.  His flying style, collective management, and the ability to work WITH the heli rather than against it give him a tremendous amount of efficiency as a pilot.  The E700 is a very light machine and when combined with that setup can be made to perform amazingly with what some would consider a sub-par setup.   This really opened my eyes and made me take a step back and look at my own personal setups (which I'll get to later on :)).  I also learned that flight videos do very little, if nothing, to give these guys justice on how hard they can fly.  I can keep up visually almost any maneuver…. or so I thought.  He blew my mind for 4min straight.  My hat's off Nick.  Very impressive.
Saturday night we did the podcast live.  I think the best word to describe it was "humbling".  To have Todd Bennet, Matt Botos, Greggor McGrath, Leon Luke, and Nick Maxwell sitting there in front of the mic is simply best described as humbling.  The growth and the respect we've achieved over the last year is more than anyone could ever dream to have.  It's such a humbling feeling to talk to these guys and have THEM say how impressed they are with our growth and what we're bringing to podcast and live productions.  I can't even begin to say thanks enough for not only all of them there that day but to all our amazing listeners.  You guys rock!!!  We laughed and laughed during the recording and it was really cool to see all the "pros" leave their salesman suits at the door and just sit down and bullshit. After the podcast they cranked up the lights and the show began.  The flying was nothing less than jaw dropping.  Between Nick and the AMain crew they kept the entertainment up all night long.  Even some of the locals jumped into the mix and put on one hell of a show.
After waking up Sunday feeling like warmed up shit in the microwave I spent the majority of the morning getting camp cleaned up and most stuff packed up. We got Dan's Goblin 500 maidened and he took off to head back home.  Justin strolled up with a new Goblin which was about the LAST thing I expected to see.  I love it!  Between Dan buying an electric, Justin buying a Goblin/getting in 35 flights, and myself flying busted up canopies the only explanation is that there's something in the water. I sat down and spent some time going back over my setup and rolling the whole "Maxwell" setup over in my head. I decided to give it a go on the DFC.  I dropped down to an 11t (I was slightly over geared before with a 12T anyway) and setup for 1950rpm.  I bumped my collective from 12* to 13* and went out to try it.  Wow!  What a shocker.  I was flying at 2050rpm before and was really pleased to find that I easily had equal performance.  The power delivery felt a lot more linear and smooth.  It did, however, take a bit of tuning on the tail and head to get the bobbles out.  Here's where it got even cooler…. I gained 45sec of flight time and my ESC is running 30* cooler.  Not only was I flying it harder than before but it was feeling better AND was a more efficient setup.  I might go up to 13.5*.  We'll just see how it feels after 20 flights or so.  So thanks a bunch to Nick Maxwell for not just opening my eyes but giving me a reminder that we don't always "need" what we think we do.