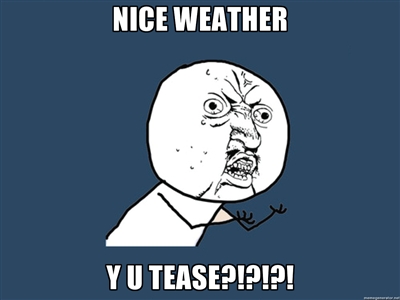 Wow.. I am slacking on getting this blog out… sorry guys.
Well as usual, I have to bitch about the weather for a bit.. because dammit.. It just plan sucks. Anytime you have temperatures that are below zero, its time to rethink your living situations. I used to love the winter… NOT anymore.
Enough about the nasty cold weather. you guys might have noticed we got the forum going again. I am very excited about how well its coming along.. getting a nice steady stream of new folks signing up to the Nation. starting to get some participation in the forum and it coming along nicely the last couple days we are nearing 100 new posts a day.. that is pretty cool.
Yes i know a mobile forum.. I promise we are working on that. A few folks have expressed some confusion as to why we went the way we did.. as far as not starting off with a mobile version. There was a LOT of thought put into this.. My biggest issue was the fact that we had a rather large registered user base. We needed a way to integrate those users without making everyone re-register or hold two user names and passwords for one site. We needed a solution that would work with WordPress. Out of the options that were available to us, we picked what we considered to be the most feature rich, and have a unique look. We here at the Nation really pride ourselves on the uniqueness of what we do. We do everything different from everyone else, and we wanted a forum look that accomplished this as well.
There are issues.. and we are working on them, they will be resolved.
We really do appreciate all the feedback and we cant wait to see where this goes.
-Dan