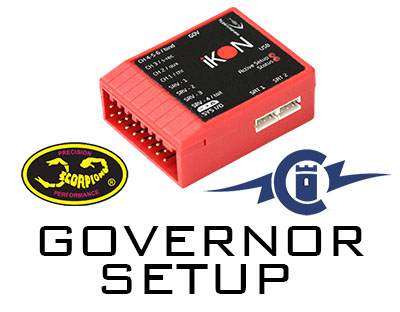 I've received a ton of inquires about the iKon internal gov and it seems to be a bit of a confusion when it comes to the setup.  I've included some step-by-step procedures here for setting up the iKon internal governor with a Castle Creations ESC and a Scorpion ESC.  The Scorpion would should apply ver similarly to other non-CC ESC's as Castle is the only brand that you need to match the endpoints in the iKon with what the CC ESC wants to see.  All others are taught the endpoints.  Here we go!
iKon electric gov w/CC ESC and autorotation bailout
Heli Setup:
Main and tail blades removed or motor backed away from pinion
Radio Setup:
Throttle curves as follows.  Normal- 0,30,30,30,100, Idle 1 flat 60, Idle 2 flat 100
Throttle Hold 0%
CC ESC Setup:
Ext Gov mode enabled
Headspeed change rate set to 20
For EDGE controllers make sure the AUX wire is set to external RPM mode
Leave soft start at default value
Check the Enable Autorotation Bailout box
Program any of your motor specs as per factory recommendations
iKon Setup:
Open up the iKon software, iKon plugged in and powered, radio on, ESC off
Basic Menu-Transmitter Setup:  Make sure you get 0% throttle and 100% throttle on the iKon when moving the throttle stick up and down.  If not adjust radio endpoints on throttle channel to match
Basic Menu-Flying Style Setup:  Check the Use Governor box in all three banks
Click View (top left of iKon software) then click Advanced.  This will further be called the Advanced Menu
Advanced Menu-Common-Governor-Setup:  Input your gear ratio
Sensing Divisor:  Motor poles/2.  *For example in my case most of mine are 5
Throttle Min: temporarily put at approx 1100.  Throttle Max temporarily put at 2000
Advanced Menu-Common-Governor-Speeds:  Input your three desired head speeds
Advanced Menu-Common-Governor-Gains:  Check the Motor is Electric box
Leave all the gains at the factory values.  This should be a P gain of 50.  Can be checked in the Basic Menu under the governor tab as well.  Gov gain will be 50
Advanced Menu-Common-Governor-Spoolup:  Ramp Up and Ramp Down set to 15
Spoolup Ramp: 3
Deadzone: 100
Leave Bailout Timout and Bailout Ramp at zero as we'll be using the CC autorotation bailout
Endpoints Programming/Throttle Hold calibration:   **Note:  We will be spooling the heli up during these steps so be aware**
Radio On. Throttle at high stick in Normal mode.  Throttle hold off
iKon is powered and plugged into PC. ESC is off.
Advanced Menu-Common-Governor-Setup is up on the screen
Plug in ESC and listen (Di,di,di,di,di). Number of tones will depend on cell count but what you're listening for is that there all the same tone.  This means that the ESC is powered up but is NOT armed yet.
NOTE: If you have an internal BEC and are powering the iKon with that then steps 2-4 will be combined all into on step.
Slowly increase the Throttle Max slider in the iKon software until the ESC beeps and there is a red light that will blink.  Throttle high is now calibrated.
Unplug ESC
Throttle at Low stick now.  Throttle hold off
Plug in ESC and listen (di,di,di,di,di)  All tones should be the same indicating the ESC is NOT armed.
Slowly decrease the Throttle Min slider until the ESC beeps (di,do). *Note:  ESC is now armed and can be spooled up*
Leave ESC powered up. Throttle at low stick.
Go into Throttle Hold menu in radio.
With Throttle Hold switch ON slowly increase throttle hold percentage in the radio until the motor starts to spool up.  Back it back down until it stops then go one point lower.
Unplug ESC
Go back into your radio and drop the last point on your Normal Mode throttle curve back down to 30
You're done!
Verification:
No PC software hooked up.  Radio on. iKon on.
Throttle hold ON
Plug in ESC and listen.  (di,di,di,di,di)  Heli can now be transported to the flight line safely as the ESC is not armed yet.
With the Radio at low stick flip out of Throttle Hold
Sound of (di,do) should be heard.  ESC is now armed and ready for flight.
Note: *There is still an occasional 1-2 second delay for spool up to start on the CC ESC's.  This is a glitch in the iKon firmware and doesn't affect anything in a negative way so if you experience a slight delay don't worry.*
Autorotation bailout will function as normal CC autorotation bailout does.  To disable the bailout and re-engage soft start you have to land, go back into normal mode, and low stick.  That will reset the soft start.
iKon electric gov w/Scorpion ESC and autorotation bailout
Heli Setup:
Main and tail blades removed or motor backed away from pinion
Radio Setup:
Throttle curves as follows.  Normal- 0,30,30,30,100, Idle 1 flat 60, Idle 2 flat 100
Throttle Hold 0%
Scorpion Setup:
External Governor Mode
Timing to 5* for most motors
iKon Setup:
Open up the iKon software, iKon plugged in and powered, radio on, ESC off
Basic Menu-Transmitter Setup:  Make sure you get 0% throttle and 100% throttle on the iKon when moving the throttle stick up and down.  If not adjust radio endpoints on throttle channel to match
Basic Menu-Flying Style Setup:  Check the Use Governor box in all three banks
Click View (top left of iKon software) then click Advanced.  This will further be called the Advanced Menu
Advanced Menu-Common-Governor-Setup:  Input your gear ratio
Sensing Divisor:  Motor poles/2.  *For example in my case most of mine are 5
Throttle Min and Throttle Max get left at default values
Advanced Menu-Common-Governor-Speeds:  Input your three desired head speeds
Advanced Menu-Common-Governor-Gains:  Check the Motor is Electric box
Leave all the gains at the factory values.  This should be a P gain of 50.  Can be checked in the Basic Menu under the governor tab as well.  Gov gain will be 50
Advanced Menu-Common-Governor-Spoolup:  Ramp Up and Ramp Down set to 15
Spoolup Ramp: 2 (you can adjust per your liking later on.  This is your soft start rate)
Deadzone: 50
Bailout Timout: 30 (you can adjust per your liking later on.  This is how long the autorotation bailout feature will stay activated once throttle hold is hit)
Bailout Ramp:  50  (you can adjust per your liking later on.  This is how quickly the bailout spools back up to head speed)
Endpoints Programming:
Radio on.  Throttle at high stick. Throttle hold off.
iKon is powered up and NOT plugged into the PC.  ESC is off.
Plug in your ESC
There will be a delay then you'll hear (di,di)
Move your throttle stick to the low position
There will be another delay then you'll hear (di,di…di,do)
Unplug the ESC.  High and low throttle is now calibrated.
Go back into your radio and drop the last point on your Normal Mode throttle curve back down to 30
Verification:
Radio on.  Throttle hold on. Normal mode.
iKon is powered up.  No PC
Power the ESC and after a delay you should hear (di,di…di,do)
ESC is now armed and ready for flight