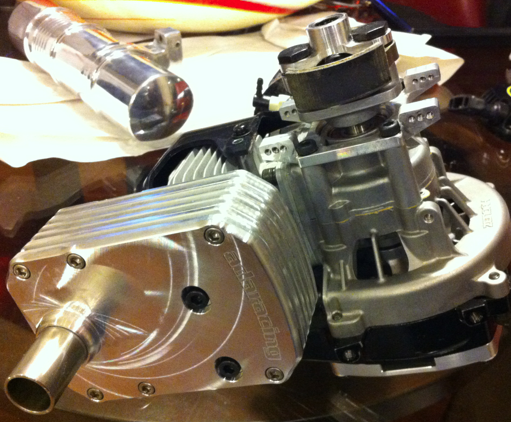 This week has been slow and mostly boring on the heli front… 🙁 Other than some testing of the MKS servos that I'm reviewing and getting the gasser ready to rock, there hasn't been much else going on. No flying, of course… In fact, the rain is beating down on my soul as I write this very blog post.
Episode #62 went really well this week though. We got a lot of great feedback from you guys about wanting to hear more on beginner stuff, learning to fly, training, etc. It was also really good to expose the differences in each of our opinions regarding heli size and characteristics, field size and how that matches up with the heli, and just the general approach to choosing a heli. There's going to be more where that came from, so just stay tuned and keep your feedback coming! We always appreciate hearing from you guys! 🙂
The hoodies are going well too, aren't they? We'll be placing the order in the next few days and if everything works out as planned, you'll have your brand-new, soft-and-warm, RCHN hoodie under the tree for Christmas! 😀 I'm not sure who's more excited in my house…me or my wife! She's a HUGE fan of hoodies and of the Nation, incidentally… 😉 I've already gotten the question of "when is my hoodie coming?" about a dozen times now. LOL
I'm actually pretty excited about getting the gasser going again, as I decided to go against the advice of my fellow teammates and buy a new pipe for it that was said to not be worth it. You ever have one of those moments where all you want to be is impulsive and scratch that itch? Well, this is one of those moments. Even as I wrote the question in our Miniature Aircraft team group to ask whether they thought it would be worth it, I knew I was going to buy the damned thing…I just wanted to hear their thoughts though.
It was almost as if each of their replies of distaste for the pipe added more fuel to the fire. So, ultimately and with blatant disregard for all advice provided, I bought the pipe and agreed with myself that even if it's not great, it's not expensive…AND…this is the most important thing, of course…it's freakin' SEXY! 😀 I also decided to replace my pull starter with a lightweight air scoop and go back to starting the heli the old-fashioned way: with a Dynatron! I'm going to get the heli back up and running this weekend now that I have the pipe and other parts I needed and begin the break-in process. Not looking forward to breaking it in again…not gonna lie, but I've got a few different things I want to try, so it should keep it interesting.
– Justin